Post by Buchanans on Oct 31, 2018 13:02:42 GMT -6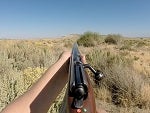 By no measure the most powerful shotgun in the world
Yet still capable of blowing bird heads clean off
This is good shit! Good lookin birds man! Oh and I can't believe some fuckwad downvoted this vid. You think because of your 'toasty' at 5:45?!? 8 minutes of a good old American hobby and some asshat didn't like you enjoying yourself? Wtf is wrong with people these days?
Them bushes and shit your maneuvering through kinda look sharp as fuck and really tear shit up! Reminds me of golfing in Arizona shaggin balls out the rough and jacking up that 'climacool' shirt tech the first day out. Camera does well with all the movement too. I caught the fever with that one at 3:25. RIP "Puglsy" at 3:57 😆 Banter at 4:30 got my juices flowing and I was right there with you looking for their demise. Little quail guys run around like pheasants do they? Looked like them little guys jumped into that little gully. 5:24 got some good crunch in the audio transition that only adds to the suspense. Good clean workout, love it...
Good stuff, Maynard.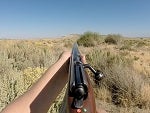 Here's opener from a week ago since you asked and I know a couple peeps here enjoy these.
And this first bird is dead when I shoot. It's not uncommon for animals to keep moving after head shots, I've seen them cork screw a few times, but this is the first time I've seen one maintain flying for so far.
And I think it might be time to retire this 1100 soon, starting to run shittier ever year, I have no idea how many shoots have been though it over the years but it's a lot.
Upgraded camera from February? The quality of movement is night and day better but not sure if that's my connection? No after watching you pan the horizon its clear and almost like watching someone with a super rig computer stream a game versus someone doing console streaming, its that good and apparent. Frustrating though with the misfires or whatever...Everything after 5 minutes just has me wanting to try it all again especially with deer opener next weekend. I forgot how much fun getting some fresh air and shooting shit is. I used to always do it back when I drank and so when I quit 10 years ago I naturally stopped hunting but man does this give me new found strength to maybe try it sober. Plus, any excuse to get away and enjoy nature before all the snow thats surely to arrive soon...
Thanks again and I really do appreciate these.
Edit: And it goes without saying, but good on ya for picking up the brass/shells of other shitbirds.
I always end up picking up some down votes on my hunting vids. I think it's just some peta type that happens upon them or searches them out to throw dislikes on them.
Sadly I'm still using a Hero3+, which is dogshit now. I think at this point I've tapped as much as I can out of that camera video wise. What I have done is continually improved the headstrap and the way I mount and position the camera. If you go though my hunting vids you can see the perspective get better and closer to that game FPS look. I think I have even improved it since this last vid as I had a different mount waiting on my doorstep when I got home that day. I'm now using an editor that doesn't suck. I'm using a better computer but still not good enough in my opinion. The improvement from last vid of last season is the editor, the comp, and even though I can't do much with Hero3+ footage that doesn't have protunes I'm doing some color correction now too. I'm also just getting better at setting my camera angle right in the field and being more conscious of how to hold or pan my head to make things look better. I still need to remember to hold the gun up higher and my head down a little to catch the reloads. The little skips in the older vids are from the computer and editor I was using just being crap, either a bug or something didn't render correctly cause the comp was slow. To get better vids I need to drop the money on the Hero7Black. Definitely worth the upgrade from my old ass Hero3+ but still money I don't have for one yet.
I always try to pick up after others that leave their shells/cases. It's the right thing to do but I also do it for selfish reasons. Shells on the ground are one of the things I'll look for in a new area. If I find random shells as I walk though an area it tells me that somebody had been hunting there and there was something they got or shot at. If there are more recent and more of them it's could be an indicator of a good or decent area. The more shells I pick up the more likely somebody may think the area sucks or maybe even question if it is legal to shoot there. One of the areas I frequently go to I've really cleaned it up over several years and I kid you not it seems like less and less others go there.